Thank you for making FATLAND's debut at the Kennedy Center's Page to Stage Festival, its reading at MetroStage and the Horizons Theatre Production such great successes!

Nudes by Barbara Strandt Moreland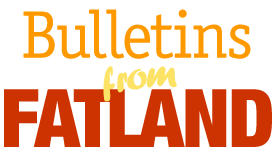 Bulletins from FATLAND, by Shelley Herman Gillon, is a series of monologues about acceptance, redemption and the dreaded word "fat." Audiences have called the monologues, nine in all, "funny," "poignant," "vivid," "shocking" and "provocative."
Little did the playwright know when she embarked on her journey through FATLAND, that she'd drop 60 lbs and hit upon a subject that would become front and center in the national consciousness and that obesity would be declared both a national and international epidemic.
Now, Bulletins from FATLAND is ready for your theater group, university, health organization or women's association in various packages. And, the author is willing to write monologues to your specifications. For more information, contact us at