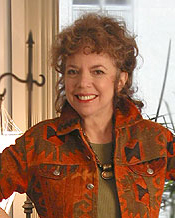 Photo by Susan A. Roth
Shelley Herman Gillon is a Washington, D.C.-area writer and communication coach who calls New Orleans her "country of origin."
In addition to Bulletins from FATLAND, other works include:
Tom to Tenn, a musical about Tennessee Williams to be work-shopped in New York in 2015. Written with Harriet McFaul Pilger and Paul D. Leavitt. www.tomtotenn.com

Crawling from the Ashes, a commissioned adaptation of Julia Caswell Daitch's searing 9/11memoir, Not to Worry, I'm just Collateral Damage, presented at the Kennedy Center's Page-to-Stage Festival in 2010

Raised by the Radio, a staged reading to benefit Katrina relief at Theater J, Washington, DC, November 2005

A Karmic Opera, staged readings at Clark Street Playhouse, Crystal City, VA and the Writers Center's Allan Lefkovitz Theatre, Bethesda, Maryland in 2003

The Crawfish Oratorio monologues, produced in New Orleans as part of the acclaimed NATIVE TONGUES, series, 2000

Other commissioned works include an adaptation of the Puccini opera Turandot and A City Fairytale, a musical with and for children.
A member of the Dramatists Guild of America, Shelley has also contributed to four indie film scripts by screenwriter Anna Filameno.
Shelley is a graduate of Tulane University, Loyola University Law School and the Neighborhood Playhouse, where she studied under the legendary Sandford Meisner. She's also the Founding Artistic Director of MOONFEST www.moonfest.net, a 501(c)(3) catalyst organization promoting a celebration of the anniversary of the first lunar walk.
Shelley lives in Silver Spring, Maryland with her husband, John J. Gillon, Jr., an attorney bio-ethicist and president of Research Integrity International, LLC.