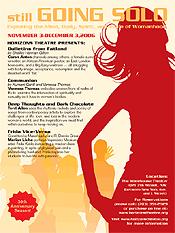 HORIZONS THEATRE PRODUCTION: Horizons Theatre presented Bulletins from FATLAND as part of "Still Going Solo: Exploring the Mind, Body, Spirit, and Voice of Womanhood," on November 3-December 3, 2006 at The Warehouse Theater, 1021 Seventh Street NW, Washington D.C. Caren Anton, a Washington, DC area favorite, performed the monologues as a one-woman-show, directed by George Grant. Celia Wren of The Washington Post found the work to be a "sobering" look at body image and obesity.
The monologues were developed in sessions of the Playwrights Forum, a DC-area play development group, headed by Ernie Joselovitz.
A full-length version was first read at George Washington University in November of 2004, directed by Leslie Jacobson, with five actresses.
The one-woman show was honed in readings at MetroStage in Alexandria in Spring of 2005 and presented as part of a series by Women's Work Writers Group (now ABG Playwrights).
Bulletins from FATLAND debuted as a one-woman-show in September of 2005 at the John F. Kennedy Center for the Performing Arts' Page-to-Stage Festival.
Special thanks to Artistic Directors Leslie Jacobson and Carolyn Griffin of Horizons Theatre and MetroStage, respectively, for their generous support of this work.